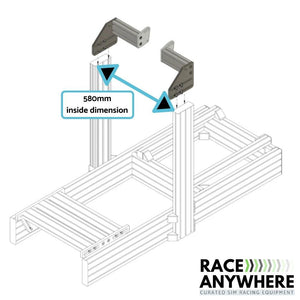 Pro SimRig Wheel Bracket - CSL DD/DD1/DD2
In Stock- Order Now for Shipping Next Day Via Included Ground Shipping!
Wheel bracket for side mounting your Fanatec CSL DD or DD1 or DD2. 
Complete kit for mounting the Front bracket to the PSR1 Rig.
The mount is built so it contains the maximum amount of adjustability so it more or less can fit all positions.
The brackets are made of 10mm thick aluminium, coated black and are mounted together with black 40x80 aluminium profiles to maximize strength and to avoid any flex.
Can be used with other rig types. Designed for rigs that are 580mm between the outer edges of your uprights. Please be sure to accurately measure the outside width of your main aluminum frame rails to confirm they are 580mm. If in doubt or have any further questions, please contact us.
REMEMBER ALL OUR PRICES INCLUDE GROUND SHIPPING!
---
We Also Recommend