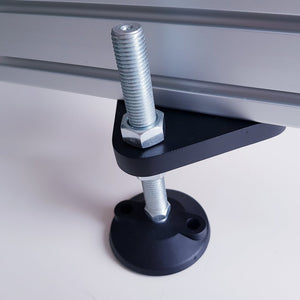 Pro SimRig Rig Adjustable Feet
In Stock- Order Now for Shipping Next Day Via Included Ground Shipping!
These high quality, adjustable feet are included in the Apex Tech Racing Supply base PSR rig package- that is how important we feel these adjustable feet are to your overall racing rig installation and experience. Even if you rig is mounted on soft carpeting you cannot be sure the floor beneath is level. It is also beneficial to have the rig raised up off the floor or carpet to keep vibrations to a minimum. Finally, it is advantageous to be able to adjust the height of the rig in small increments to perfectly match the height of your monitors once they are set in place.
Raising the rig off the floor makes it possible to add under rig LED lighting to perfectly finish the look and feel of your racing room. 
Complete kit for mounting the feet to your PRS1 Rig is included. Can be used on any rig that has 40mm wide base rails.
Brackets are made of 15mm aluminum, coated black.
And don't forget the 6mm thick PSR rubber mat to go below the adjustable feet for that showroom quality racing rig presentation. 
REMEMBER ALL OUR PRICES INCLUDE GROUND SHIPPING!
---
We Also Recommend