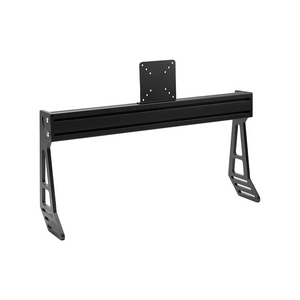 Pro SimRig Integrated Monitor Mount - Single Screen - Black
NEW PRODUCT ANNOUNCEMENT
In Stock and Ready To Ship To Your Door!

While we here at Apex Tech Racing Supply and Pro SimRig believe that a monitor stand sitting on the floor decoupled from the racing rig is the single best option for stability, rigidity and strength, the simple fact is that not every sim racer has the space for an isolated monitor stand. After months of testing, Pro SimRig has released the integrated monitor mount that alleviates many of the issues with integrated mounts made by our competitors.
The fact is the most rigid and solid rig on the market - The PSR1 - is the best starting point for an integrated monitor. Built with 160mm foundation rails and 120mm uprights the PSR1 is as solid as they come. Even the most powerful direct drive wheelbases can't shake the PSR1 so the monitor mounted to the integrated monitor mount has zero shake. Combine the PSR1 with the 40x80 cross bar and beefy side plates and you have the ultimate stable and strong integrated monitor mount.
If you are short on space and still want to get your single monitor or ultrawide as close as possible for the best FOV the Pro SimRig Integrated Monitor Mount is the solution you are looking for.

SPECIFICATIONS

Extra strong and rigid due to the 40x80 extrusion that solidifies the design
Thick aluminum side plates
Minor angle adjustments at the extrusion without having to move the side brackets
Comes with a VESA 50/75/100 bracket
Designed to fit the PRO SIMRIG PSR1, or another other aluminum extrusion rig where the outside of the uprights (or the inside of the uprights) is 660mm.
Comes with bolts and t-slot nuts to attach to your rig.
Note: Monitor for illustration purposes only
REMEMBER ALL OUR PRICES INCLUDE GROUND SHIPPING!
---
We Also Recommend